Everything That Is Missing In Foods Today!
Countless individuals like yourself, may not realize that their bodies and brains are literally starving for proper nutrition and the ability to absorb it.
You may think by eating your fruits and vegetables you are getting all the nutrition you need. However, the food processing system, modified fertilizers, and poor soil conditions, that exist around the world make it hard, or in some cases impossible, for you to get all the nutrients, vitamins, digestive enzymes, and amino acids your body is hungering for. These conditions can kill all the good live portions of our food.
As you may be aware of, many people find it hard to afford to eat all fresh fruits and vegetables they need, especially, those with families or limited budgets. This is the situation that we at TRU want to help you with.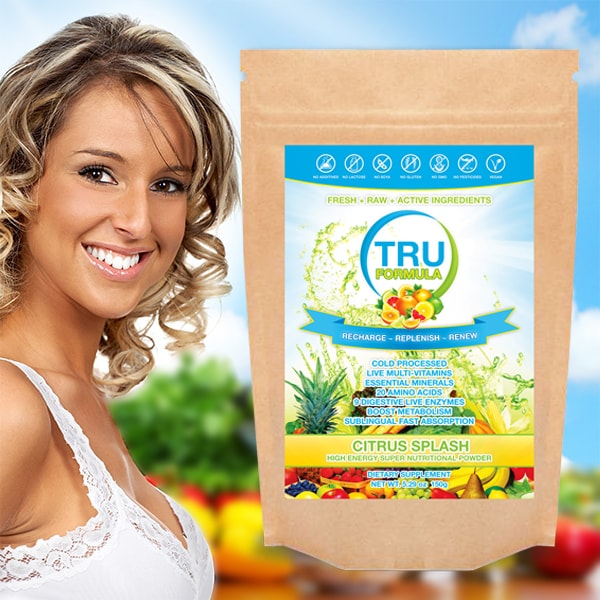 Introducing … TRUFORMULA!

TRUFORMULA is an affordable all natural product that will feed and help revitalize your brain and body.
TRUFORMULA is a fruit and plant-based feel good powder, that feeds your brain and body and is jam-packed with multivitamins, minerals, 9 digestive enzymes and 20 amino acids, which gives you your daily nutrients and then some.
Unlike other nutritional powders, TRUFORMULA is a cold processed fruit and plant based product, which maintains live enzyme function. The nutritional value of TRUFORMULA is derived from 50 fresh raw fruits and vegetables and because it is plant based your body is more able to fully absorb the nutrients that these fruits and vegetables can give you.
Due to the way we process the TRUFORMULA powder, you can put it directly under your tongue for even faster results. This sublingual method, is the one the very best ways for absorbing nutrients, as it goes directly into your bloodstream. In this way, all the nutrients, vitamins, digestive enzymes, and amino acids are delivered throughout your entire body more effectively.
Unlike tablet vitamins and supplement pills, of which according to the The Physicians Desk Reference (PDR) shows, only 15% get absorbed into the body while the rest is flushed away and can upset the stomach. Our TRUFORMULA powder is 100% able to be completely dissolved and absorbed so your stomach is upset free!
Since TRUFORMULA contains live nutrients they are able to convert carbohydrates and stored fats into energy, along with protein synthesis (the conversion of amino acids into new healthy cells like: muscles, tendons, joints, skin, hair, nails, vital organs, etc.)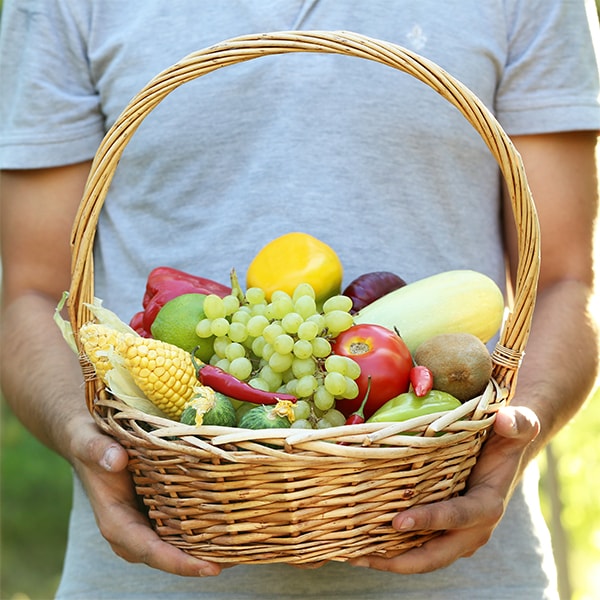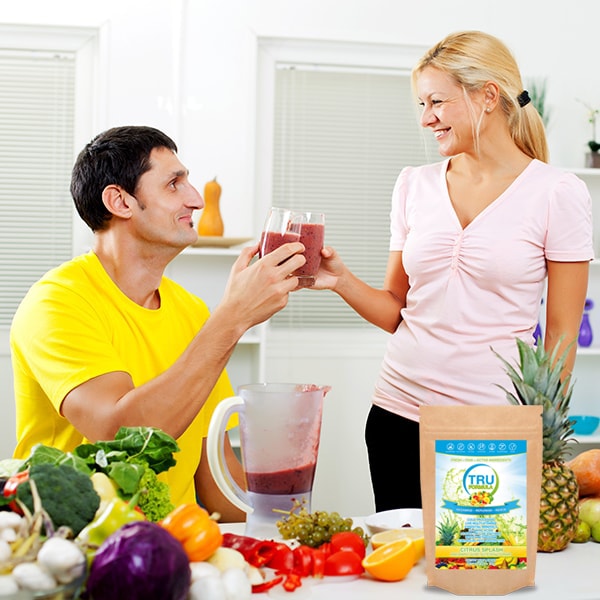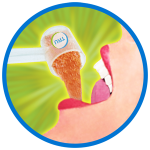 TRUFORMULA provides all the essential amino acids you need for complete body recovery. Essential amino acids are the proteins your body cannot make on its own. They must come from an outside source, like TRUFORMULA, and they must have live enzyme function.
TRUFORMULA's powder comes in a 30 day supply container with two great-tasting flavors, orange or fruit punch!
You can take it directly under your tongue and let the fresh flavored nutrients melt and absorb into your body, or mix it with water, juice, smoothie or whichever way you prefer.
TRUFORMULA's powder is sweetened naturally from fruit, and healthy Xylitol, with no refined sugars.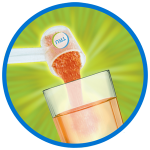 You can take one a day for health, or up to three times throughout the day for enhanced benefits.
We at TRU are excited to be able to offer this truly amazing nutritional powder, manufactured to the highest standards.
Try our TRUFORMULA powder for yourself and see what a difference having TRUNUTRITION can do for your well-being!
Burn Carbs & Stored Fat

Build Lean Muscle Mass

Enhance Focus & Stamina

Recover Faster

Sleep Better

All Natural & Great Tasting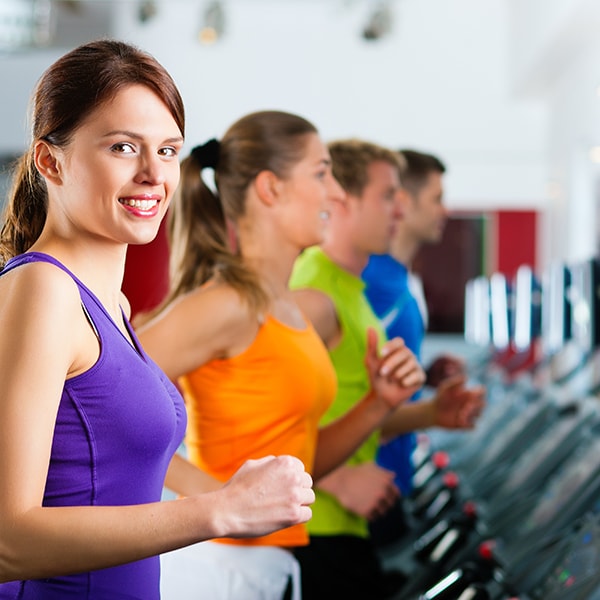 Gold Quality, Purity & Manufacturing Certification
All TRUFORMULA ingredients voluntarily meet U.S.P. Standards (United States Pharmacopoeia) and are tested for potency, purity and optimum bio-availability (raw). (U.S.P. is the highest quality rating possible. If ingredients are not U.S.P.,  they are not officially recognized and therefore unverified or unknown.)
Our ingredients are blended in a state of the art facility that meets the G.M.P. certification requirements (Good Manufacturing Practices) from the N.N.F.A. (National Nutritional Foods Association since 1936), a third party independent auditor. This means the supplement facts are correct.
Our facility also meets the N.S.F. certification requirements (National Sanitation Foundation) for a sterile manufacturing environment.
Our manufacturing practices exceed industry standards. All of this combined insures that you get the very best in the industry.
Third party quality testing verifies the optimum bio-availability and potent live enzyme function for the best body chemistry possible. G.M.P., N.S.F., ISO 9001:2000 certified lab. All nutrients meets U.S.P. standard.
Statements have not been evaluated by the FDA. This product is not intended to diagnose, treat, cure, or prevent any disease.
© 2019 TRU International Inc.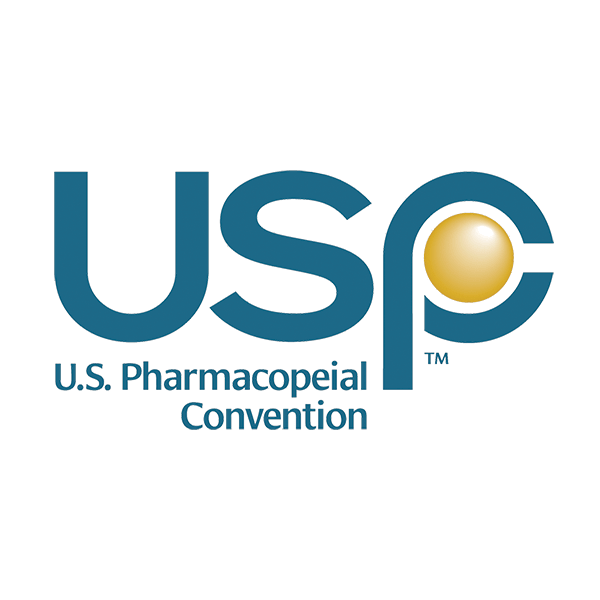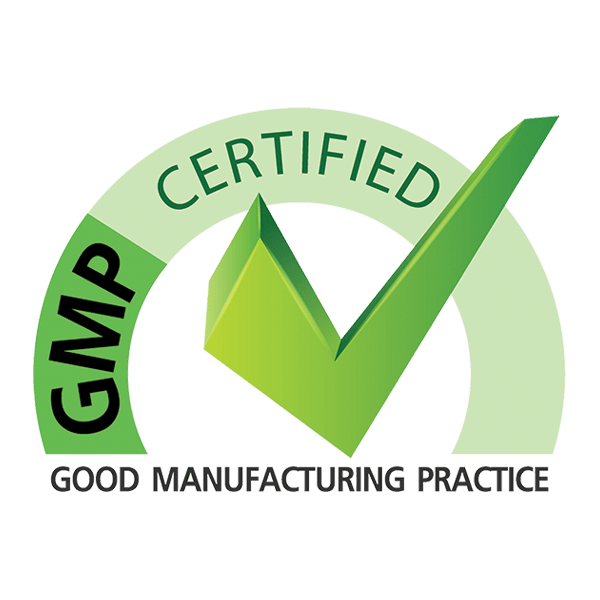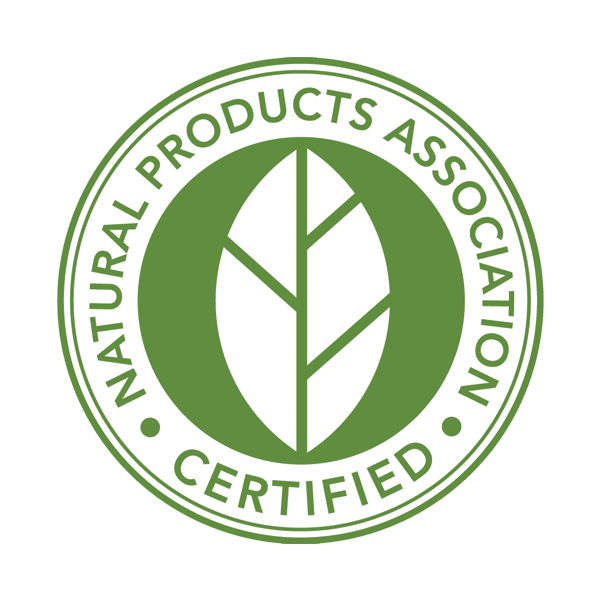 TRUFORMULA powder comes in a 30 day supply bag with two great-tasting flavors, Citrus Splash or Fresh Fruit Punch!
Size: NET WT 5.29 oz (150g)
Warning: Prolonged use of this product will save you money and make you feel great.
Disclaimer: The nutritional information mentioned within this web page is not intended as a substitute for consulting your health care professional.
Any attempt to diagnose and treat an illness should come under the direction of a health care professional who is familiar with nutritional therapy.
Nutritional benefits may vary from one person to another.